Landhaus 3 Schlafzimmer, 250 m²
Casalborgone, Turin (provinz)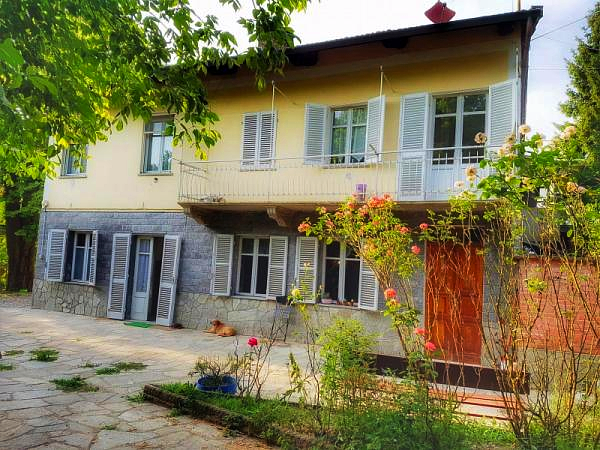 Eckdaten
garten
terrasse
garage
keller
Ob­jekt­be­schrei­bung
FULLY DETACHED LARGE FARMHOUSE AND LAND FOR SALE IN WINE CUNTRY OF NORTHERN ITALY.

Suitable for B&B, double- or single -family home and tourist activities
FREE LIVING IN THE WINE HILLS OF NORTHERN ITALY

Set in a gorgeous countryside of hills and forests, in the quaint and bustling town of Casalborgone (Piedmont, Northern Italy), where traditional gastronomic excellence meets tourism.

HISTORY
Casa Fiore "Flower House" was built in the 20s and is nestled in the wine hills of the charming town of Casalborgone. Peace and serenity, a haven, quite literally. Casa Fiore housed numerous WW II refugees from the city of Turin, and its walls protected numerous Jewish families escaping the German invasion of Italy. Indeed, other homes in the area were burnt to the ground, but Casa Fiore stood strong and offered santuary in those troubled and dark times. It is almost as if a sort of protective aura envelopes the house and its land. Back then, Casa Fuire was much smaller and it grew in the years to come, expanding to its current size. Casa Fiore is testament to tradition. It may change in appearance but retains its precious essence at heart.

THE HOUSE
Fully detached traditional farmhouse, 250 sq. m. (2691 square feet) partially restored, and 9000 sq. m. (2.22 acres) of land surrounding the house, with a large front terrace that overlooks the open hills.
Utmost privacy, peace and relax in this character property.
A winding country road leads to the house through the fields that is surrounded by private land, front garden, driveway and large rear garden and courtyard.
The first floor has been completely renovated with all new wiring, plumbing and heating /all certified) and has two large bedrooms, bathroom, kitchen, dining room and spacious living room leading to the open terrace. Top quality materials used for the renovation. The roof floor has been heat insulated with top quality material.
The ground floor in quaint and cozy, rustic in feature like a country house should be. A wood paneled living room with a central brick fireplace, small kitchen, bathroom, garage and two vast rooms with lovely vaulted brick ceilings, which can be converted into living area.
ALL NEW
All new heating, electricity, plumbing and sewers. We built what counts, so there are no surprises after buying the house. How many times have you heard a new home owner say: I forgot to ask abot the plumbing. Not here, buy safe! All new systems installed in 2016.
High-efficiency heating system to save on fuel consumption.
Lighting fast intenet installed via radio transmission!
VIEW
Rolling hills, open fields and a crisp blue sky embrace this lovely property.
Neighbors are up the hill so there is maximum privacy. Plenty of sun all day long.
OUTSIDE
Outside the house is surrounded by its private land and there is a stable in need of renovation, which can be converted into additional rooms or used to keep animals for a farming activity. Rolling hills lead to the surrounding land which is mostly flatland and can be used for all sorts of activities; from a park and swimming pool area to private crop fields. There is a car park in front of the house for up to 8 vehicles.
MAKE INCOME
Excellent opportunity to use the house to make income as a tourist activity, B&B, glamping or many other ideas. Make income while retaining your own privacy.
The house can be converted into 2 or even 3 living units!
INVESTMENT
New prestigious castle venue recently opened in Casalborgone, with luxury hotel and wellness center, bringing a sharp rise of tourists in the area.
Excellent opportunity to invest! Piedmont is the upcoming place to be in Italy !

------DISTANCES--------
The house is 3 minutes away by car from the town of Casalborgone, which offers numerous services: supermarket, bank, bars, pharmacy, post office and numerous shops.
35 km from Turin
140 km from Milan
12 km from Chivasso, town of 20000 inhabitants and complete services, including hospital, banks, shopping centers, post offices, high-speed railway…
35 minutes from the airport
20 minutes from the railway station with trains to Turin and Milan.
1 hour from the mountains and skiing
1:45 hour from the beach
EXCELLENT PRICE FOR THE SIZE OF THE HOUSE AND PLOT OF LAND.
ENJOY THE FREEDOM OF LIVING!
Einzelheiten
Landhaus

Einige Restaurierungarbeiten

250 m²

3

2

8.700 m²

800 m²

30 m²

LARGE DETACHED COUNTRY HOME AND LAND IN PEACEFUL WINE COUNTR
Entfernung von:
Entfernungen entsprechen der Luftlinie
Entfernungen werden vom Stadtzentrum aus berechnet.
Die genaue Lage dieser Immobilie wurde vom Anbieter nicht angegeben.
7.3 km - Bahnhof - Verolengo

7.7 km

99.4 km

45.0 km
Informationen über Casalborgone
205 m ü.d.M.

20.13 km²

Binnen Hügel

1920
Karte
Die Immobilie befindet sich in der hervorgehobenen Gemeinde.
Der Anbieter hat sich entschieden, nicht die genaue Lage dieser Immobilie zu zeigen.
Google Satellite View©
Anbieter kontaktieren
Privateigentümer
Monica Tassone
Strada Fiore 1a , Casalborgone, Torino
0039 340 9667284
Was halten Sie von der Qualität dieser Anzeige?
Helfen Sie uns, Ihre Gate-away-Erfahrung zu verbessern, indem Sie eine Bewertung zu dieser Anzeige abgeben.
Bitte bewerten Sie nicht die Immobilie selbst, sondern nur die Qualität, in der sie präsentiert wird.