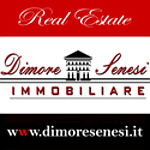 DIMORE SENESI
Via Garibaldi, 1
Castelnuovo Berardenga - Siena
+39 0577 355259 +39 393 9946527
For over 16 years I've been working on the real estate market of Siena, with the same passion for both prestige properties and modest first homes, for every type of property and location. My personal goal is to always fulfill the dreams of my clients, sharing with each one of them every single step of the procedure and searching the most appropriate way to reach their goal.
A NEW WAY TO WORK AS A REAL ESTATE AGENCY
The real estate agency Dimore Senesi interpretates a highly innovative professional relationship by providing a personalized service to each customer and situation.
The seller meets in Dimore Senesi a consultant to the sale with whom to agree, based on its commercial sensitivity, exposure modes, Publications or absolutely confidential proposals of their property to the chosen target.
The only goal is to close the sale with a few well-selected visits, in the shortest possible time, eliminating all unnecessary exposure and appointments..
EFFICIENT WEB MARKETING AND QUALITY IMAGE
For the growing importance of the web in the real estate market and to assure a powerful and effective positioning on planet internet, we are present in almost all the major property portals and in the front row with our corporate well vsited and allways up to date website.
High-quality images and accurate descriptions are the basis of all our presentations and the means of communication by which we establish the first contact with potential buyers.
SERVICES
Purchasers:
Analysis and constant monitoring of the real estate market, ready to seize the best opportunities at any time
Custom Search by location and type of property
Insertion in our database and those ofcollaborating agencies with the analysis and comparison of the purchase request with properties currently available for sale.
Checking and verification of the cadastral regularity and mortgage of properties we offer for sale
Technical and real estate consultancy; Once youÕve find your future home, we will follow you step by step throughout the process, from the negotiation until the time of final purchase in the following phases:
- Technical assistance in the evaluation
- Conduct of negotiation
- Technical assistance at the contracting phase
- Drafting of an irrevocable purchase proposal to guarantee the reached agreement
- Support the Notaries Preliminary of Trade
- Assistance to the Notary Deed
Legal and tax advice with the best law firms and accountants of Siena
post- deed Consultations; we will continue to be there after the deed, advising and remaining a true landmark
Availability of financial and technical consultants, interior designers, architects, artisans and companies restructuring available for any need and free estimates with no obligation
REAL ESTATE INFORMATIONS:
Sede: via Garibaldi, 1, 53019, Castelnuovo Berardenga (SI)
Partita Iva: 01212190522
Codice Fiscale: LNCRCR70B27I726J
Data Fondazione: 1 Giugno 2007
Ruolo degli Agenti d'Affari in Mediazione: iscritto presso C.C.I.A.A. di Siena al n. 588
REA: iscrizione presso C.C.I.A.A. di Siena al numero 129609
Immobilien zum Kauf durch DIMORE SENESI
:
77
Suchergebnisse für: DIMORE SENESI