Agentur
Infinity Marche di Pivato Liliana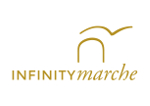 Infinity Marche di Pivato Liliana
C.da Colli Asola
Morrovalle - Macerata
+39 347 1554804
Infinity Marche is a long established real estate agency which takes you one step closer to finding the house of your dreams. With the most beautiful houses and a guarantee of reliability, seriousness and professionalism.
Infinity Marche offers clients its extensive, renowned expertise, as well as its technical know how, in the world of Real Estate in Le Marche, guaranteeing even the most demanding customer the chance to identify his or her dream property, either by the sea, in the mountains or amongst the beautiful low hills in between.
The Le Marche Region is truly a land of plurality due to the multiplicity of its charming beauties: rolling hills, limitless olive groves and captivating vineyards, creating a varied scenography of nature winding almost sinuously along the Adriatic coast and inland to enchanting countryside and further south to the rugged Mountains of the magnificent Sibillini National Park.
Infinity Marche boasts a wide portfolio of high quality properties in this beautiful area, which, whether ready to live in or to be restored, are accurately selected for their beauty, their grandeur and their location.
The experience and competence of Infinity Marche, along with the collaboration of a pool of architects and legal advisers, is synonymous with great reliability, which represents a key element in the home buying process. We have a range of properties from town houses, country houses, small holiday 'lock up and leaves' to the grandest of mesmerising jewels that nestle in the natural splendour of the Le Marche Region.
Infinity Marche is a project conceived by Liliana Pivato. An Italian citizen born in Switzerland, she is a professional who has spent most of her working life leading in the business arena. An accountant by training, since 2005 she has been operating as a certified real estate agent registered at Chamber of Commerce of Macerata (n.772 of the Official Register of Real Estate Agents).
In Le Marche Liliana has personally restored two of her own properties and she constantly brings to her work a passion for interior design and an endless love for beautiful places and objects. She has a fluent command of both English and Italian and is easily able to negotiate between buyers and sellers. Over the years she has built up a network of contacts with solicitors, architects and project managers that provide support beyond the initial purchase of a property. Most importantly, she has gained a vast experience of meeting successfully the needs of her many International clients in helping them to find the house of their dreams.
Immobilien zum Kauf durch Infinity Marche di Pivato Liliana
:
38
Suchergebnisse für: Infinity Marche di Pivato Liliana